AXENCE NVISION®
GATHERS AND MONITORS INFORMATION IN YOUR NETWORK

5 MODULES CREATES COMPLETE SOLUTION FOR YOUR NEEDS

NETWORK (FREE)
When you need to monitor the devices which are present and operating in your network and when you want to be informed in advance about any potential failures in the network.


INVENTORY
When you need a full list of installed software, license management, records on fixed assets and automation of the computer inventory.

USERS
When you want to prevent problems with company data security and when you need to monitor employee performance and increase their efficiency at work.


HELPDESK
When you need to manage notices of employees and respond to them easily, and you want to quickly provide them with remote help.

DATAGUARD
When you want to increase the security level in your organization by protecting your data against leaks and network infection from pen drives, and when you want to define security policies for the connected storage media.
REFERENCE:
"We chose Axence nVision, because it is very convincing that we have all the functions consolidated into one program. To obtain the same range of services we would have to buy at least 2-3 other applications."
---
"We assess the program as very good as well as the work of technical support."
---
"Axence nVision helped us with network administration on daily basis and improved the security of the infrastructure in the company. It improved the control of hardware, software and IT assets. Until now, it was not as effective and took a lot more time IT staff."
THEY TRUST US:


AWARDS: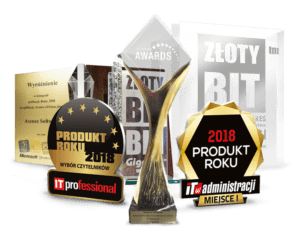 Over 12 years of the professional experience
Over 700 000 installations worldwide
Solution of the year in CEE Microsoft contest
Product Of The Year in IT Professional Magazine